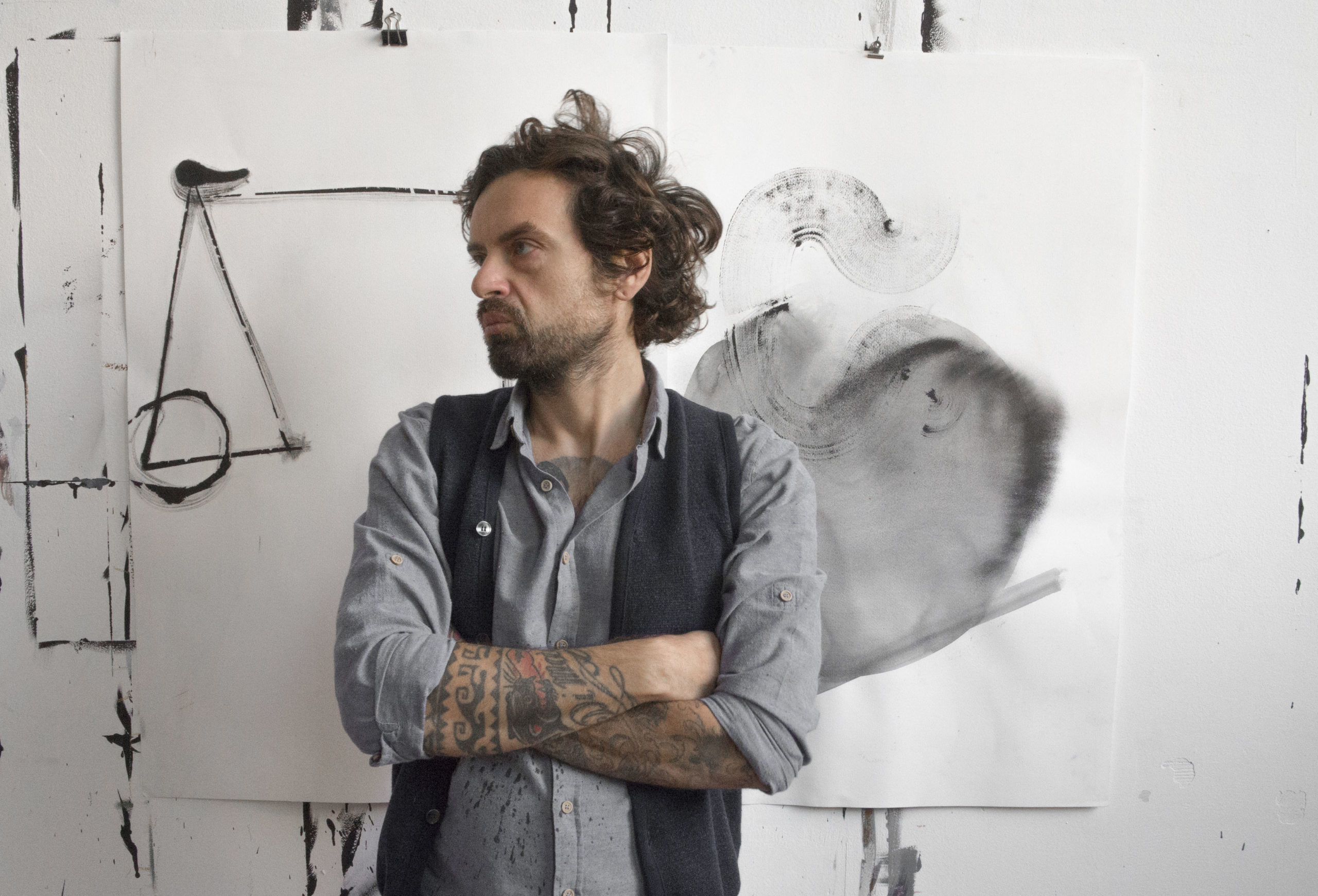 Luca di Maggio
Bio:
Graduated from The Vienna International School in 1996, he studied Law at the Milan State University where he dropped out in 2001. He graduated with a degree in Graphic Design from the Istituto di Arti Grafiche Rizzoli Milan in 2003. And he received a fine art scholarship in 2011/2012 at the SMFA – School of the Museum of Fine Art, Boston (MA, USA). He is based in Milan but likes to travel a lot and to spend some months abroad painting. He has experienced painting in places like Tel Aviv; Halle, Leipzig; Chemnitz and Berlin; Boston and New York.
Work:
He says spontaneity is the solid foundation of his work. The need for an outlet leads him to paint and the need for movement leads him to often work in large dimensions. His work depicts his emotions and his life. He often uses the paper to symbolize the fragility of man. He is determined with different types of walls and materials, even more if old, tired and crumbling. He draws bicycles and cyclists because they represent life: movement, fatigue, arrival and departure and landscapes and views that excites him. He works to evolve and often returns to where he began. His work is precise, sometimes abstract, sometimes naive or nervous. And he uses oil pastels, vinyls, acrylics, sprays, mixing and improvising styles and materials.
http://www.lucadimaggio.com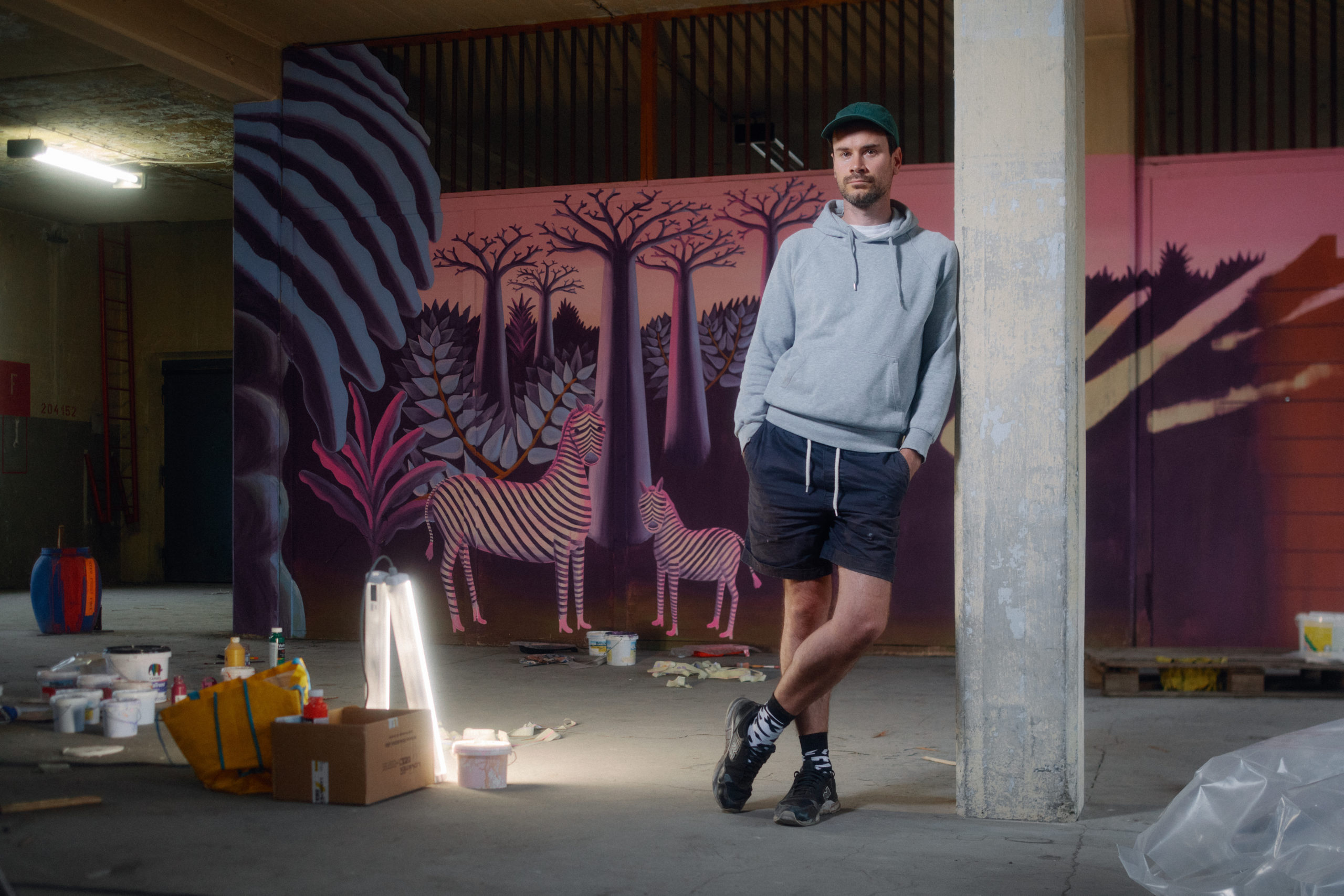 Robert Deutsch
Bio:
Robert Deutsch studied illustration and communication design at Burg Giebichenstein Kunsthochschule Halle and has been a freelance illustrator and artist for national and international clients since 2012, winning numerous awards and exhibiting his work in Leipzig, Berlin, San Francisco, Los Angeles, Porto, Montpellier and many other places.
Work:
"A sweet, almost cute impulse emanates from the works of the Leipzig artist. The pastel, colourful palette suggests innocence and the round, soft shapes something childlike and playful. However, the contents of these supposedly naive pictorial worlds add a bitter note to the sugary taste. Thus, despite the bright pink and powdery light balus, the viewer inevitably becomes aware that this is a coquettish reaction to the conditions surrounding them, a mirror of society – a wolf in the cosiest sheep's clothing."
Robert Deutsch plays with art historical and social image codes. Very directly, he illustrates themes of personal relevance through exaggeration. A reference battle with pop cultural codes, mixed with the cultural memory of the Occident and the great themes of humanity – sex, love, violence and death. The codes he uses are catchy and spread smiles, followed by the feeling of being caught. They are very personal insights into the mind of an individual and yet reflect something like the common-sense of our present.
https://robertdeutsch.de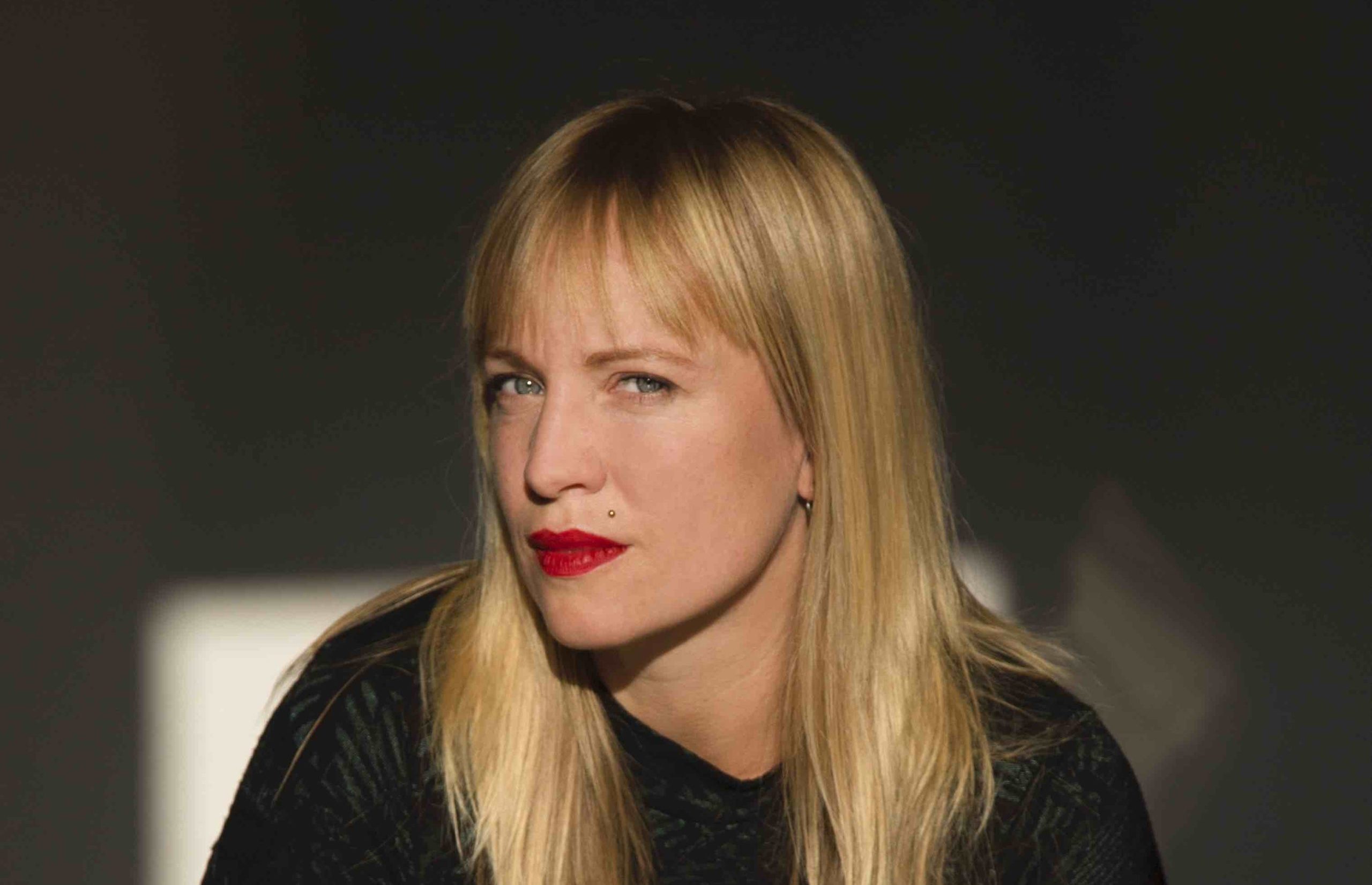 Klara Charlotte Zeitz
(born in Dresden, Germany) lives and works as an author and artist in Leipzig.
She studied art, theatre and film history in Naples and lives as an author and artist in Leipzig. She works at the interface between text, art and film and teaches storytelling and creative writing at the Kunsthochschule Kassel. Public space playsan important role in her work. In spring 2021, she published her poems in Leipzig's urban space with a grant from the Kulturstiftung Sachsen. She regularly gives lectures on language and memory culture, most recently at the Lentos Museum Linz and the Sepulkralmuseum Kassel. Her main topics are transformation and independence, equality and new language images, emphatic memory culture, sexuality and community. In 2020, she was a fellow of the Goethe-Institut Thessaloniki and in September, October and November 2021, she will present the resulting works as installations in Thessaloniki (GR), Santo Stefano di Magra (IT) and Leipzig (DE). In the past, she has published short stories and essays in "PS – Politisch Schreiben", various international magazines and is a guest author of the "ZEIT ONLINE" column "10 nach 8".
UNSPOKEN FORMS – RECLAIMING SPEECH
The poetic forces are at the centre of Klara Charlotte Zeitz's installation work: ethical and aesthetic strategies of making oneself heard, which culminate in a sensory perception. How can we perceive more sensuously, empathically and empathic perception and perceive words in a different way in order to get into with something or someone? Above all, the works represent an emancipatory, global and 'femaleʻ perspective. What connects the narrative of contemporary women, timeless, transnational and independent of origin? Unspoken Forms – Reclaiming Speechattempts to give a subjective answer to this. A critical and at the same time playful observation between the personal and the political, the affective and the analytical.
The voices and images presented are meant to remind us, that common geopolitical demarcations and rigorous juxtapositions of coherent cultures are based on fiction.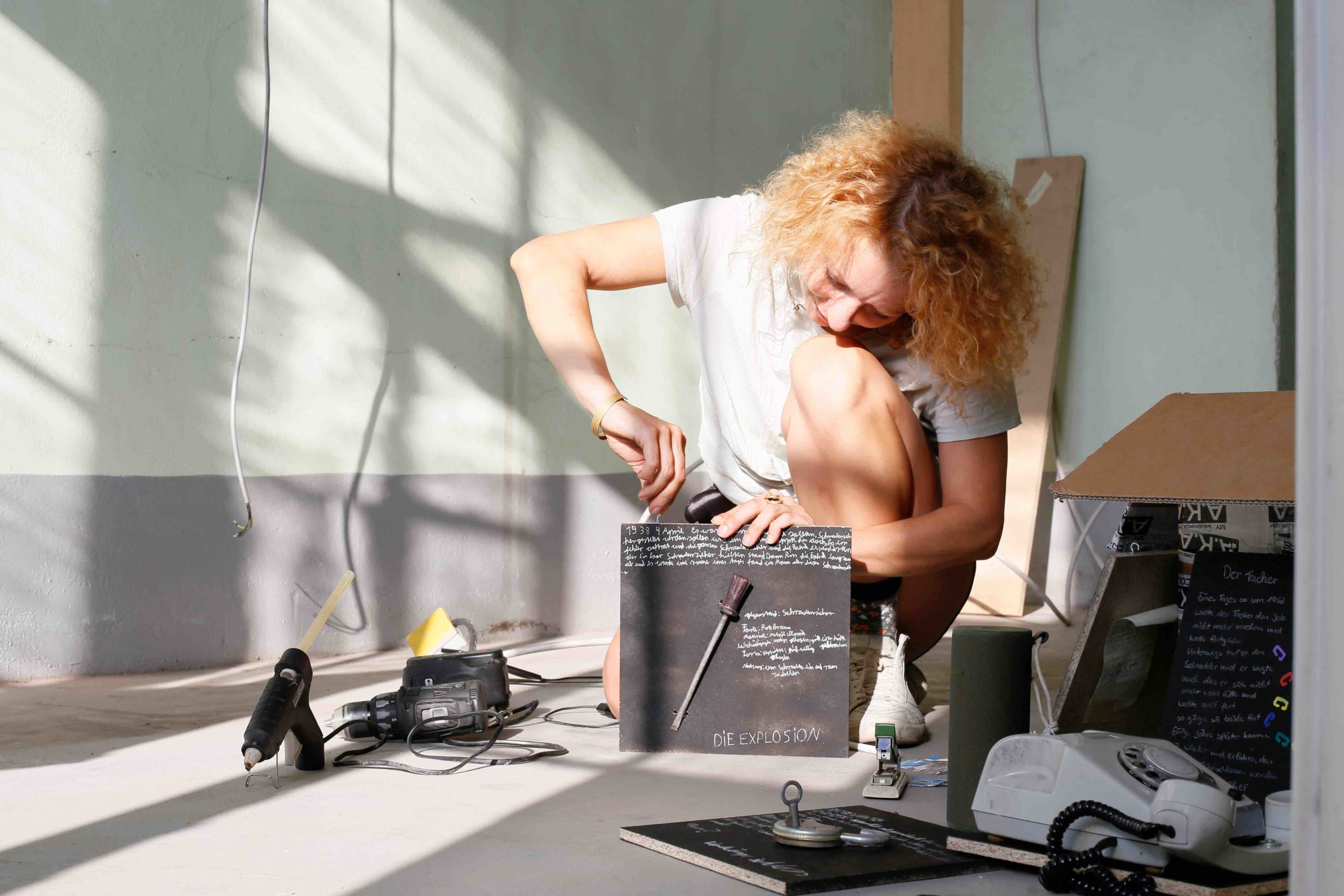 Christin Haupt
is a trained designer and social pedagogue. She has been working in the social sector in Berlin since 2011 and volunteers at cultural events and in street social work.
She loves and lives art. She loves the details of life and likes to capture them in photos and occasionally handwritten texts.
Her fascination with the blending of the digital and real worlds recently led her to explore augmented reality for the first time at a summer school at Panke Galerie Berlin and to contribute her part to the "openAR" exhibition. She says that in the digital age, one should not lose sight of the wonderful world of real uniqueness and become more sensitive to how people can use the virtual world.
She thinks about herself that there are many jobs and credentials, but rarely the right one to feel confident about one's freedom. All you should know about her is that she is a human being – certificate unknown.
She leads workshops with passion and empathy, which makes them a great success. For years she led the education department at ibug. In the summer of 2020, Saxon art educators therefore met at the ibug festival for further training on the topic of urban art and the sustainable use of brownfields. They received new impulses and took ideas for dealing with the topic back to their art lessons. In 2021, 42 studentsfrom the 7th and 8th grades of the Helmholtzschule Leipzig learned about the history of the VEB Buntpapierfabrik Flöha in several workshops as part of the RESCUEproject. They dealt with the stories of theformer employees and the conditions at the time. With the help of collages, installations and storytelling, they created works of art and breathed new life into old names and objects. These creative works will be exhibited both online and at the ibug festival, which the students will visit as part of school tours.
Xuan
Bio:
Xuan is a graduate of the Eastman School of Music and has studied Media Spaces at the BTK University of Art and Design in Berlin. She's currently teaching experimental filmmaking as an Adjunct Professor of Humanities at Eastman and works as a freelance video artist.
She had performances at the Metropolitan Museum of Art, the MCA Chicago, the Smithsonian Institution, University of South Carolina, Carnegie Mellon University, Constellation, SF Jazz, Le Poisson Rouge, and the Indie Grits Film Festival. Recent projects in interactive design have been exhibited at the ErsterErster Gallery in Berlin, DE, the ibug Urban Art Festival in Reichenbach, DE, and Design Biennale 2019 in Zürich, CH.
Work:
Xuan is a new media artist, filmmaker, and pianist working at the intersection of music, visual art, and technology. Her work includes experimental animation, abstract scenography, narrative documentaries, music videos, videography, interactive installations and real time audio-visual programming. With a background as a contemporary classical pianist, she actively develops innovative, cross-disciplinary projects that broaden the immersive scope of new music through technology.
Current projects include Art on theMART in Chicago, USA, a projection installation on the largest projection surface in the world, in collaboration with GRAMMY-winning ensemble Eighth Blackbird; installation at ibug urban art festival in Flöha, Germany, and at the RESCUE Residency in Santo Stefano di Magra, Italy.
http://www.xuanfilms.com/about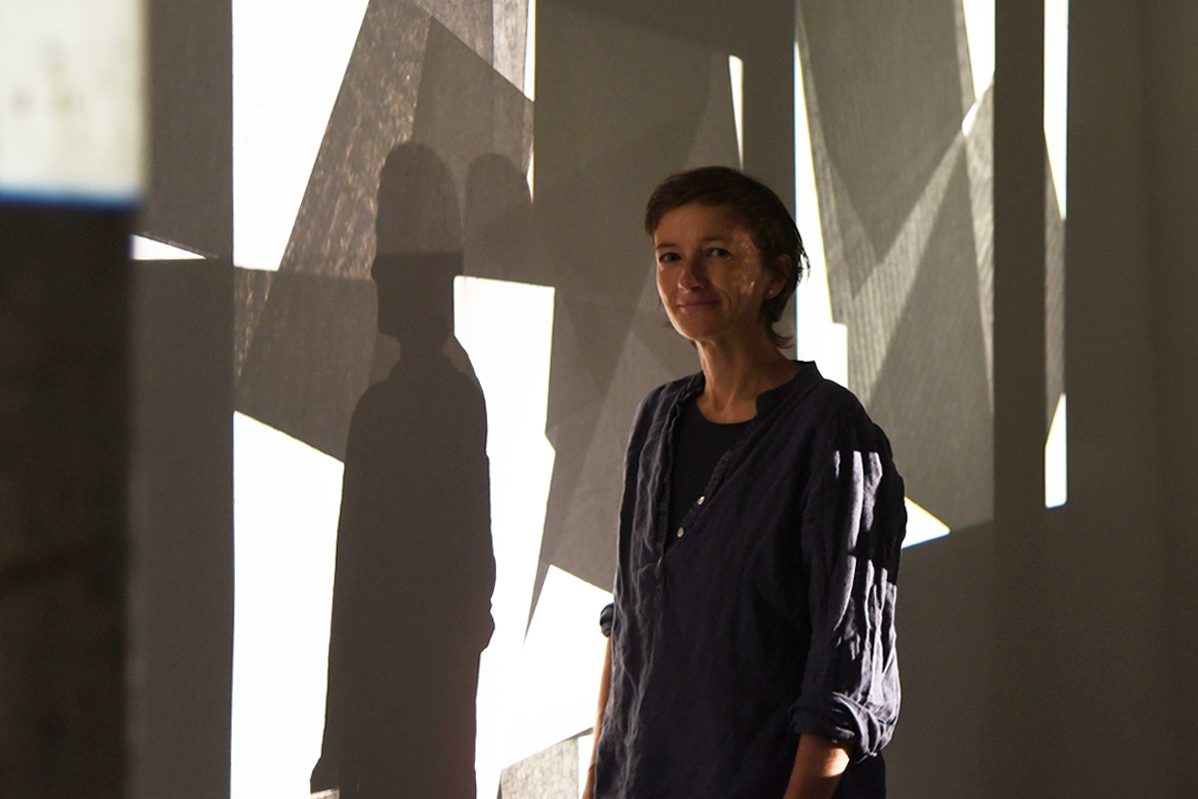 BEBA FINK
Born 1968 in Graz, Styria (AT).
Mag. Phil. History of Art / media and graphic design – diploma 1995
School of Friedl Kubelka / Vienna – artistic photography class, diploma 2012 Mag.Art
Art and photography – diploma 2017
Akademie der bildenden Künste Vienna, class of Prof. Martin Guttmann
light projections – experimental lighting, analogue and digital photography
Graphic design. Painting. Sculpture. Short cut video. Sound installations / performances & interventions
Memberships and affiliations – rotor Graz, Kunstverein Graz, Plafond+Fluss, Lower Austrian Iniatiatve for photography and media art
bebafink@gmail.com / t. 0043.0.664.4814707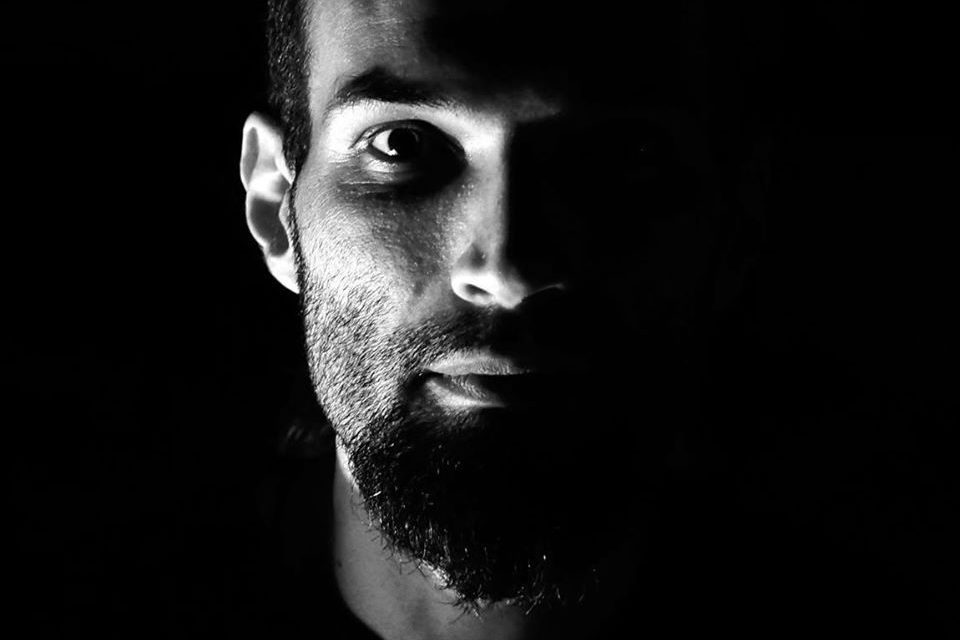 JAKA BERGER
He is one of the most active, creative and verstile drummers, composers and improvisers on slovenian music scene in the last ten years. In 2006 he released his debut album with Samo Šalamon and Achille Succi for italian label Splasch records. Since 2014 till today he is regulary publishing music for prepared drums that he is constructing by himself. His albums are regulary reviewed by international media on improvisation and electroacoustic music. He is part of experimental project Partija with visual artist Matej Stupica, member of bands Ludovik Material and Darla Smoking. Performed in independent theatre shows Gremo Vsi!, Novo mesto Readymade and Nein. Toured with EBM legends Borghesia. In 2015 he released an album of graphic composition Treatise by Cornelius Cardew. In 2016 he performed his most complex piece Audiable life stream tentet for ten musicians. In 2017 finished a tour and released second album with international trio with Rieko Okuda and Antti Virtaranta. Currently he is performing free jazz with Mezei Šalamon Berger trio, Džuklje Berger duo and Šalamon Džukljev Berger – Fresh Dust trio, has just released his new electro acoustic album dedicated to composer Morton Feldman with pianist Dejan Berden, Fresh Dust trio album at FMR records UK and integrating modular synth into his preapred drumset.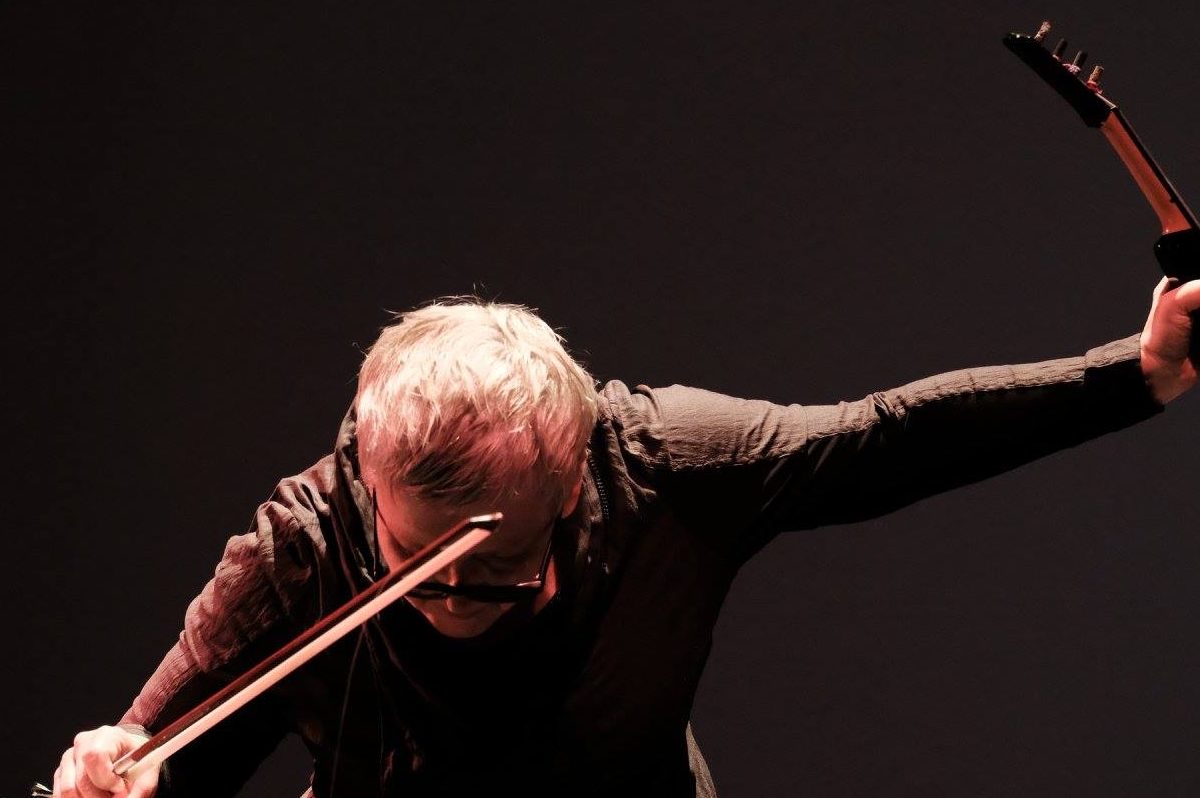 MIA ZABELKA
Austrian violinist, vocalist and composer Mia Zabelka is at the forefront of international electro-acoustic performance art. She developed her unique musical language in a process she calls "automatic playing", where the music grows out of her body and gestures and finds its expression in her electric violin with electronic devices, alien objects, vocals, and/or acoustic violin. Using this set up she is given the opportunity to expand the sound range so extensively that the violin itself becomes an interface, an electronic sound generator and thus a sound machine.
Her previous collaborators include Elliott Sharp, Dälek, Phill Niblock, Pauline Oliveros, Robin Rimbaud, Electric Indigo, John Russell, Maggie Nicols and Lydia Lunch.
She has given concerts and performances at many Festivals throughout Europe, America and Asia. Numerous CD, vinyl and video releases. Recipient of highly regarded prizes (3- time winner of the Prix Ars Electronica) and awards. she was a guest of the DAAD's (German Academic Exchange Service's) international artists' programme in Berlin and the Fulbright Commission in New York. Recently Mia Zabelka was awarded The Akademia Music award 2018 for her composition "For Pauline Oliveros", commissioned by Steirischer Herbst/ Musikprotokoll and Austrian Cultural Forum New York.
Mia Zabelka is currently the artistic director of Phonofemme Festival Vienna and Klanghaus Untergreith in the region of South Styria.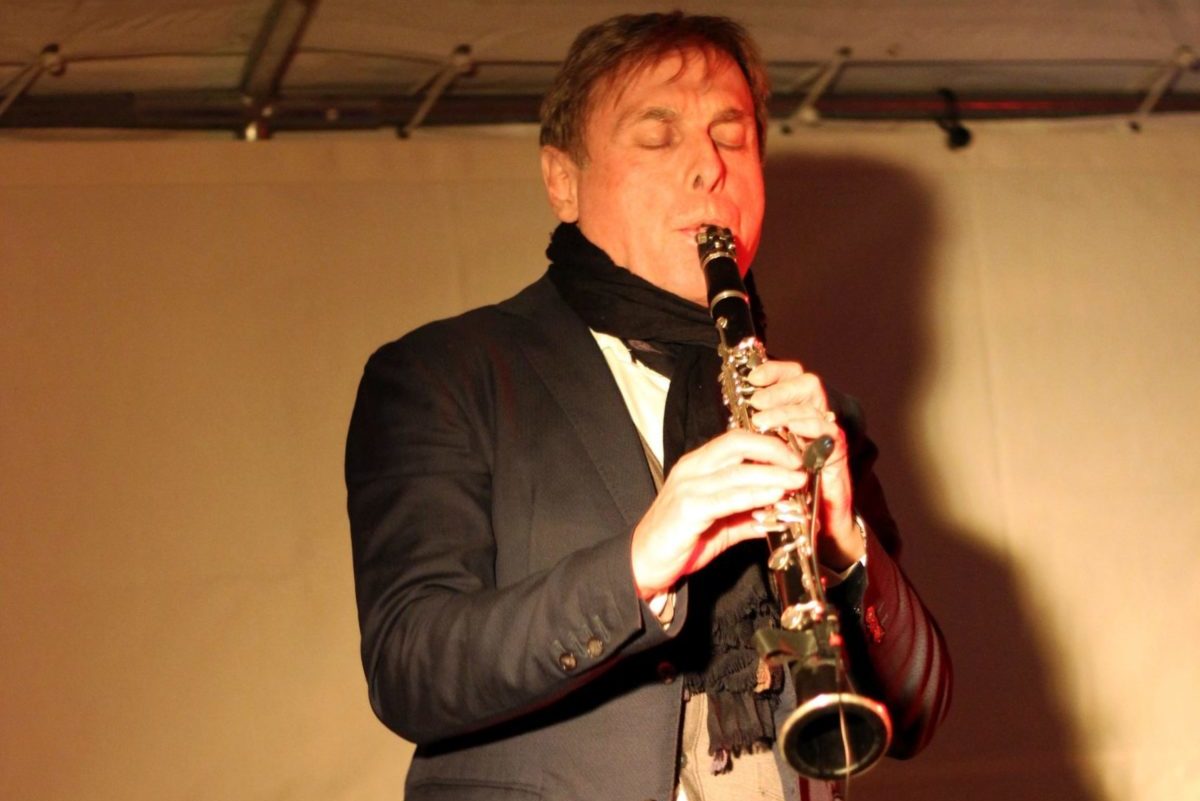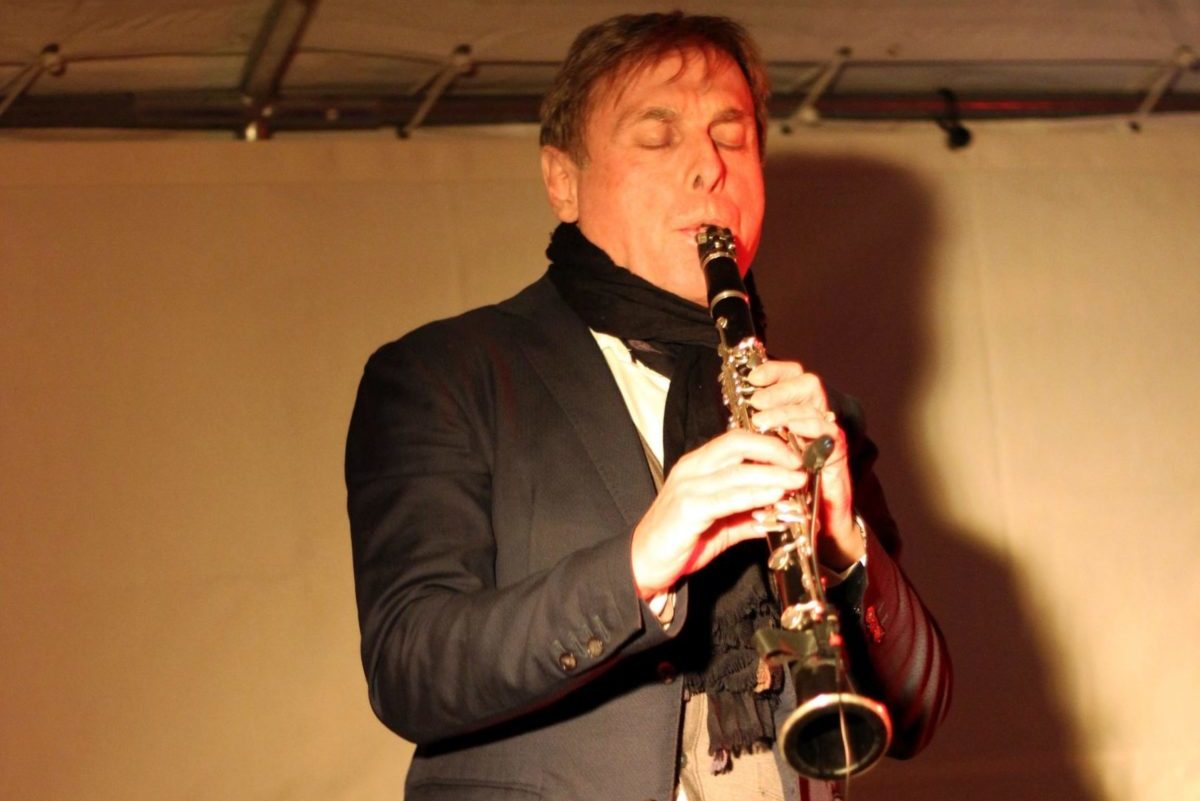 Roberto Paci Dalò
Composer and musician (clarinets / live electronics), film maker, theatre director, visual and sound artist, author and radiomaker active for years on the international scene, creates his work starting with sound and drawing, then expanding to sculpture, installation, music, film, performance, and collaborative projects, between institution, the independent scene, and pop culture.
Art, science, and nature are the key words of his oeuvre. A pioneer in the use of Internet and in integrating analogical and digital technologies, his work areas include: radio transmission, telematic networks, persistence of classical tradition in contemporaneity, psychoacoustics , robotics, cybernetics, man-machine interaction, real-time sound-image elaboration, sound cartography., music (from early music to new stuff) on stage, persistence of classical tradition in present time, image and sound relationship, digital culture, interaction, body languages, social design, projects for the public space & site-specific, collaborative & participatory projects. Paci Dalò is active as performer (clarinets / electronics / sampler) also involved in collaborations and improvised music.
In defining his own work Paci Dalò coined the definitions: media dramaturgy and theatre of listening. He frequently creates his works in various fields, further investigating different aspects of perception of the same material. Thus scene and music works often become radio pieces or interactive sound/video installations and online projects.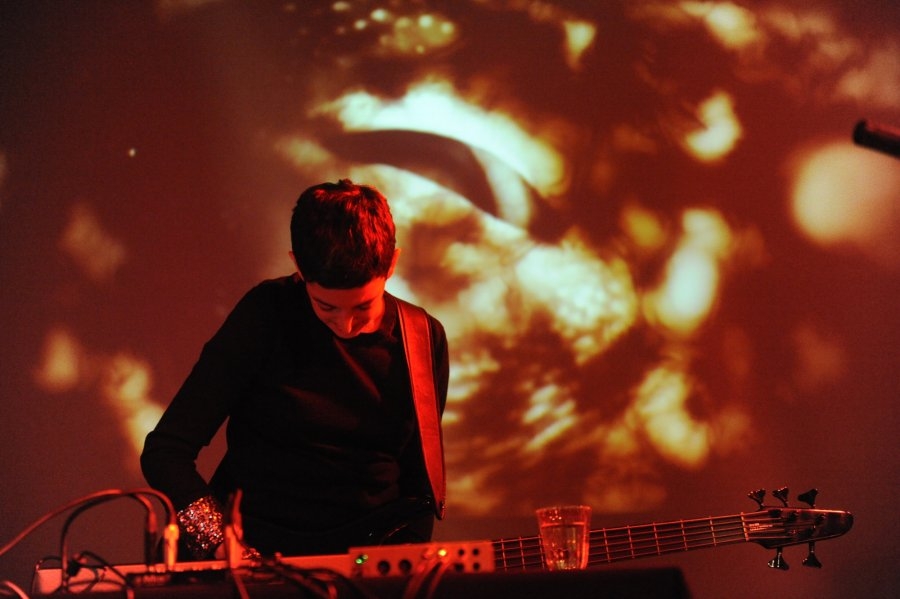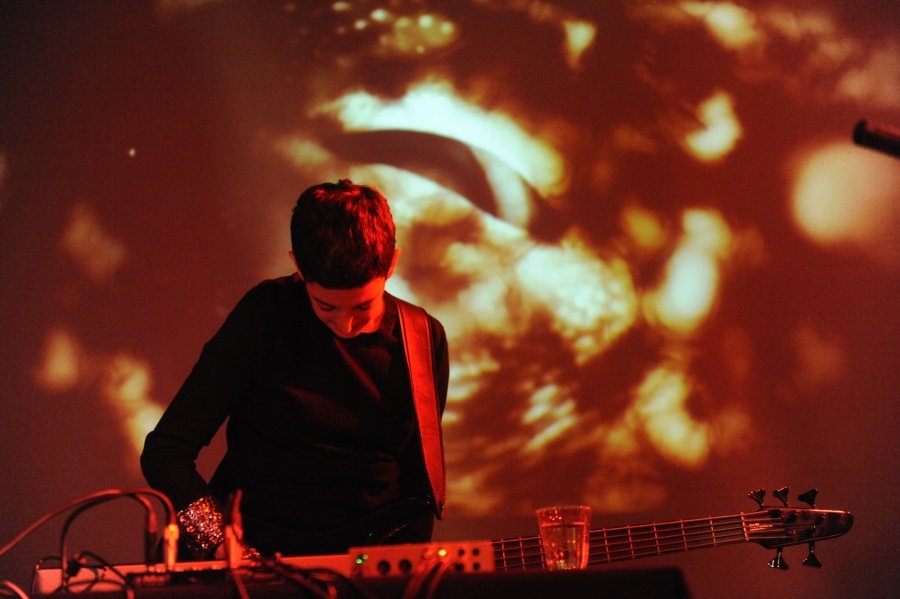 ZAHRA MANI
She is a musician and composer from Pakistan and London. She lives and works in Austria (since 2001) and also spends time in the UK, Croatia and Pakistan. Her work includes compositions for solo instruments, voices and ensembles, radio art, sound installations as well as electro-acoustic and inter-medial performances.
She plays the double bass, various guitars and the piano, and briefly studied Indian classical music in Pakistan, where she was introduced to the tabla and sitar.
In her compositions and performances, she uses electronics whilst always focussing on "organic" sound, only working with analogue sounds and field recordings she collects in an ever-growing archive. Zahra Mani's works are imbued with her distinctive compositional voice, which continues to grow out of a fundamental openness in hearing and listening, always trying to include every acoustically perceptible moment in the creative process. Her approach to sound characterises her musical language, which carries in it a continuous and subtle pulse, and which constantly calls into question traditional aspects such as melody, rhythm, time structure and acoustic aesthetics.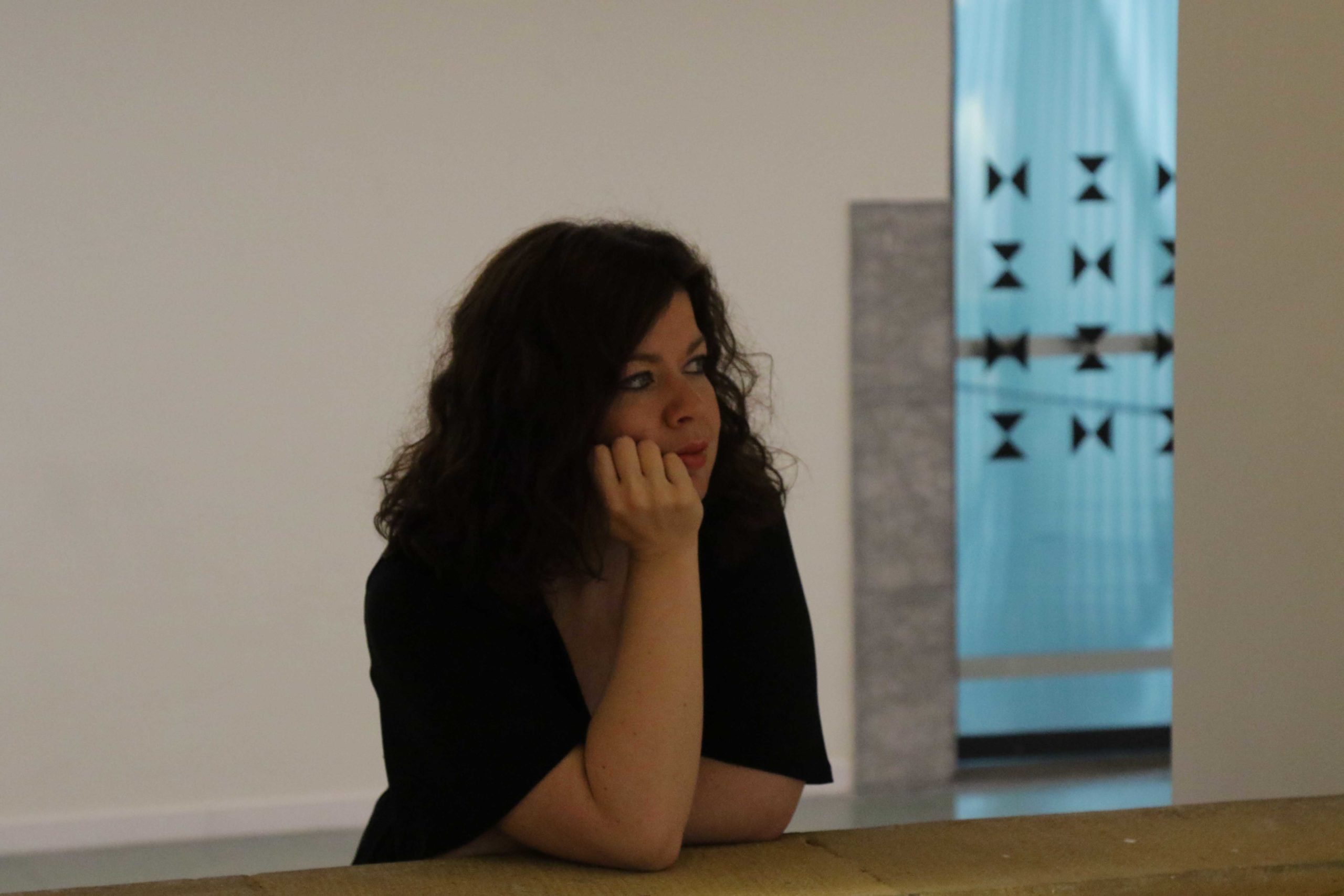 Maja Hodošček
Maja Hodošček (1984) is an author of video works, installations, initiates workshops, and curates exhibitions. Her practice is research-based and experimental, focusing on performance, behavior, and modes of learning. She finished her MA at the Dutch Art Institute in Arnhem, NL. Her work was shown widely on international group exhibitions such as Hidden Curriculum, tranzit.sk, Bratislava; Silence is Deafness Here, Gallery Podroom, Belgrade; Beyond the Globe, Moderna galerija, Ljubljana; South by South East, Guangdong Times Museum, China; Pipe Dream, Kunsthalle Exnergasse, Vienna; Travelling Communiqué, Museum of Yugoslav History, Belgrade. She presented her work on solo exhibitions in Dom omladine, Belgrade, Museum of Contemporary Art – MSUM, Ljubljana, Miroslav Kraljević Gallery, Zagreb, ŠKUC Gallery Ljubljana, Gallery Gregor Podnar, Ljubljana, etc. In 2020 she received the national award Rihard Jakopič for artistic achievements, and in 2010 she won OHO Award. She was an artist in residence in Tabakalera – International Centre for Contemporary Culture in San Sebastian (2019) and ISCP New York (2010).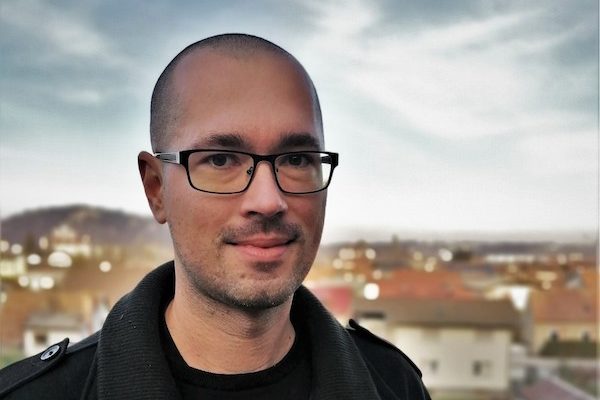 Tomo Podstenšek
Tomo Podstenšek (1981) is an established Slovenien prosaist. He writes novels and short stories, as well as children's literature and plays. His short stories have been published in literary magazines in Slovenia, Hungary, Croatia, Austria, Macedonia, Serbia, Poland etc. Many of them were award-winning or broadcast on RTV Slovenija radio shows. His novel Sodba v imenu ljudstva (The verdict on Behalf of People) (2012) was longlisted for the best Slovenian novel of the year award, Kresnik. In 2017 his novel Papir, kamen, škarje (Rock, Paper, Scissors) was shortlisted for the same award. In 2018 his book Ribji krik (The Scream of the Fish) was shortlisted fort the best Slovenian collection of short stories award. Apart from writing, Podstenšek occasionally takes the role of a director of children and adult theatre groups, mentors creative writing workshops, organises different literary events etc. He lives and works in Maribor.
https://drustvo-dsp.si/pisatelji/tomo-podstensek/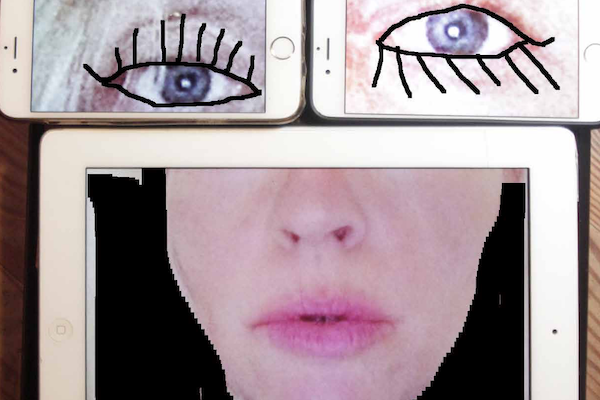 Toni Soprano Meneglejte
Toni Soprano Meneglejte is half of the former tandem son: DA, which was active in the Slovenian and international visual arts scene for more than 15 years. Since 2015 she has been working independently, is an intermedia artist and her diverse practice includes photography, sound performances, space design, scenography, drawing, video and digital projects using social media.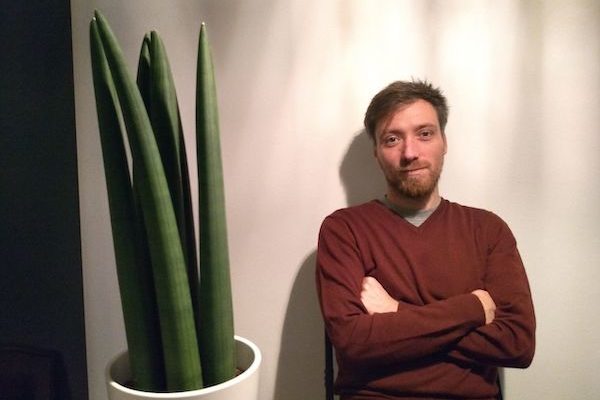 Simon Žlahtič
Simon Žlahtič, self-employed in culture, finished his art history studies at the Faculty of Arts in Ljubljana. He participates in professional conferences and symposia, such as the TEH 85 conference in Pula, organized by Trans Europe Halls (2017) and Participatory Governance in Culture: Exploring Practices, Theories and Policies. DO IT TOGETHER in Rijeka under the auspices of UNESCO and the Kultura nova Foundation (2017).  For the GuestRoomMaribor, he contributed interesting field lectures for various artists called Interest Safari (Interesni safari) (2017–2020). He also held art history lectures at The Slovenian Third Age University (2017–2020) and the cycle in Gallery K18 (2018–2020). He has also prepared and led tours of youth exhibitions in collaboration with Bunker (2017). He lectured on sustainability in architecture as part of the Bee the future project (2019). He contributed to a special issue of OUTSIDER magazine on sustainable architecture (2020). He edited and wrote articles and contributions for Culture.si (2019–2020). As part of the Lent Festival (2016–2018), he participated as the street theatre executive producer. As an executive producer, he also collaborated with the theatre group ZIZ (2017, 2020). He has recently collaborated with the GRM residency platform (GuestRoomMaribor, 2017–2021) as a producer and curator and jury member to select guest residents (2017–2018). He curated Matija Bobičić's exhibition Paths and Collisons at the Rigo Gallery in Novigrad, Croatia, for which he assembled and prepared a catalog (2017).  He participated in the international stop-motion animation festival StopTrik (2017–2018). As part of the festival, he prepared the exhibition Cinema and Maribor/Kino in Maribor (2018). He worked as a cultural producer and curator at the Pekarna Magdalenske mreže (2017–2018). He participated in a curator-artist residency exchange, where he was a guest at the Gallery of Contemporary Art <ROTOR> in Graz (2018). He contributes texts for the catalog of resident artists GuestRoomMaribor (2018, 2020 [in progress]). He participated in creating the animated film by Miloš Tomić under the auspices of Film Factory (2019–2020).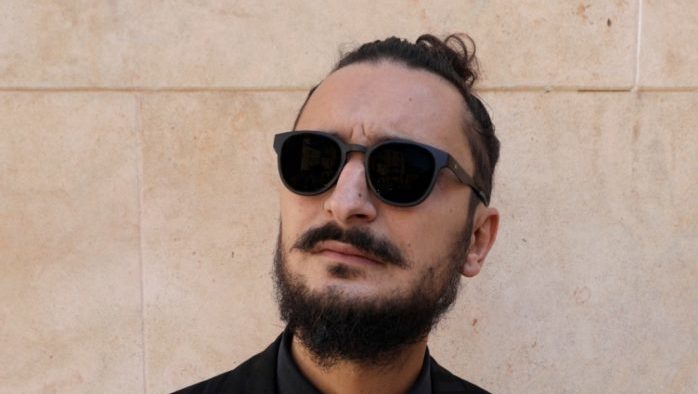 Enrico Casale
theatre director and trainer (La Spezia, 1985)
He trained through workshops and seminars with Ascanio Celestini, Cathy Marchand and Gary Brackett (Living Theatre), Massimiliano Civica, Fabrizio Contri, Mara Baronti, Danio Manfredini, César Brie, and an internship with movie director Giuseppe Ferlito. Since 2004 he has been involved in various theatrical productions both as an actor and assistant director. In 2005 he was director and actor of the docu-film "Il gatto di plastica" with interviews with Gianni Minà, Giulietto Chiesa, Michele Santoro, Ennio Remondino, Roberto Zaccaria and Silvano Agosti. His next film was the feature film "The Bedbug" by Vladimir Majakovsky (2007). Since April 2009 he has been involved as coordinator and theatre educator in Accanto-Interventi, a project for the integration of people with disabilities in schools. He also works as a theatre operator at IALToscana. He was assistant director and actor in the Luigi Faccini film "Rudolf Jacobs – The Man Who Was Born Dying", presented at the Venice Film Festival in 2011. In 2006 he founded Associazione Gli Scarti, with which he directed various shows: "MAUS Mio Padre Sanguina Storia" (Tuscany regional government Memory Day Award), "La Bomba", "Venticinquezeroquattro", "Ubu Rex", "La Serva Padrona" (MyDreams Award -TPE Torino finalist), "Big Biggi One Man Show" and "The Last Kaligola". In 2016 he was assistant director of Michela Lucenti's Balletto Civile in "Killing Desdemona" and in 2017 "Bettleropera" for Neukölln Oper in Berlin. Again in 2017 he received a Special Mention for "Faustbuch" (produced by Scarti) at the Ustica Scenario Prize and the Giuria Ombra Prize at the Santarcangelo Festival. In 2017 he was artistic director, together with Marco Martinelli (Teatro delle Albe), of the PLAY-La non scuola project in La Spezia. Since 2018 he has curated the national theatre in prisons project (promoted by ACRI and Compagnia della Fortezza, Volterra) for the prison of La Spezia, in collaboration and under the supervision of Armando Punzo, and since 2019 he has curated the Rescue project artistic part and performative laboratory.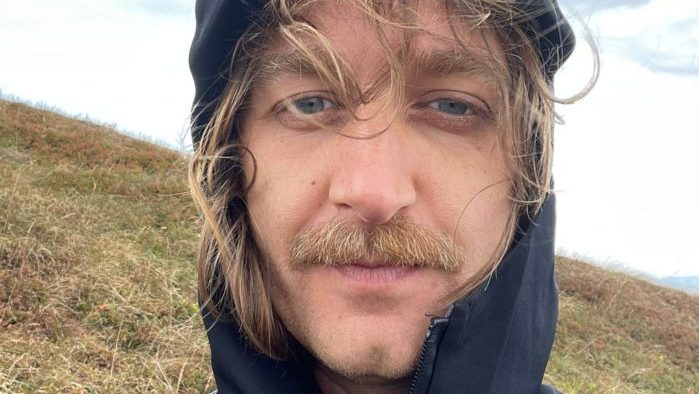 Alessandro Ratti
artist and set designer (La Spezia, 1986)
He graduated in Visual and Performing Arts from the Accademia di Belle Arti of Carrara, where he specialized in sculpture. In 2006 he participated in the Urban Tools workshop held by Dmitry Vilensky for the Cities from Below project curated by Marco Scotini in Pisa. He collaborated with GodArt, running arts workshops in schools from 2007 until 2010 and he was invited to the sixth edition of Officine dell'Umbria to perform his installation Agnus Dei involving the creation of an archive of citizens' objects. Then he exhibited Objects for the Social Use at the 13th Carrara International Sculpture Biennial. In 2008 he took part in the Impossible Sites group exhibition with Out of the Box at Piana degli Albanesi, Palermo; this public art project won the 2011 Lost in Translation award, promoted by the non-profit agency Connecting Cultures. In 2012 he founded Parisse Collective, a multidisciplinary shared platform to support the memory archive of Anselmo Crovara. Nowadays he works as a theatre set designer and is a workshop leader for schools and penal institutions.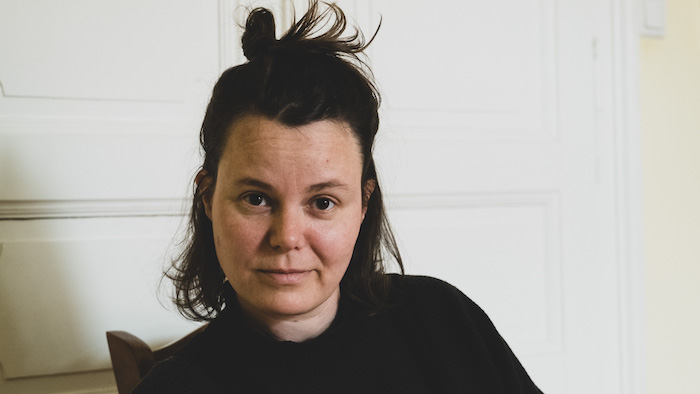 Barbara Polajnar
Barbara Polajnar is a performer, producer, and pedagogue of theatre workshops. She studied cultural studies at the Faculty of Social Sciences in Ljubljana, where she also received her bachelor's and master's degrees on the topic of the Theatre of the Oppressed. Since 2010 she has been performing workshops, trainings, and education in techniques of the Theatre of the Oppressed in Slovenia and abroad. She is the co-founder and legal representative of the Cultural and Artistic Association Transformator. She was part of the international festival of contemporary dance Nagib's production and organizational team in Maribor and the event producer in the Incubator Moment. She leads the theatre-activist group ZIZ In Maribor. She is the program manager of the Non-festival/Ne-festival of the Theatre of the Oppressed. She is a co-author and performer in the plays Behind ClosedDoors / Za štirimi stenami, Gala is no Joke /Gala ni šala, Narcissus, Caught in a Crossfire/Med dvema ognjema, Embrace of a Granite Cube/ Objem granitne kocke, FiloZOO, Weddings Without Borders / Poroke brez meja, Ema, Cabinets of Old Junk /Omare stare šare, My Stories, My Fairy Rights / Moje prav(lj)ice, Status quo in the labor market / Status quo na trgu dela, String that Saved the World / Vrvica, ki je rešila svet … She has participated in symposia and conferences with contributions on the Theatre of the Oppressed (international conference Caravan: WE-FOR-GET, the symposium on Theatre Pedagogy, symposium Challenges of Intercultural Dialogue in Maribor…), also publishes articles (Social Science Debates / Družboslovne razprave, Folio, Non-Governmental / Nevladna, collection Celebrating the Possibilities of Transformation / zbornik Praznovanje možnosti transformacije …) and is the co-editor of Co-decide, Co-create, Co-form/ Soodločaj, soustvarjaj, sooblikuj: Theatre of the Oppressed for the Development of Political Theatre / Gledališče zatiranih za razvoj političnega gledališča (2014), The Theatre of the Oppressed at Work / Gledališče zatiranih na delu (2018), Active Theatre / Aktivno gled(al)išče (2020).  She is also the co-editor of the first book translated into Slovene of the Theatre of the Oppressed titled InExActArt. She participated as a project coordinator and training mentor in all performances of the Transformator Academy of the Theatre of the Oppressed in Ljubljana and the School of the Theatre of the Oppressed in Maribor.